Christmas Contest that everyone is waiting for!!
Christmas Contest

that everyone is waiting for!!
กิจกรรม ประกวดคลิปวิดีโอ วันคริสต์มาส ในหัวข้อ "God With Us พระเจ้าทรงอยู่กับเรา"
2021 Christmas Contest with the topic "God With Us"
Rules of the Competition:
Participants must be a member of Abundant Grace Church living in Thailand.
The participant can be an individual person or as a team.
The video must be relevant the topic "God With Us พระเจ้าทรงอยู่กับเรา"

The videos are limited to 3 minutes long.

There are no restrictions on the type or genre of the videos.
Videos must be submitted in the .MP4 format. Videos must be FHD (1920p x 1080p) in resolution.
Participants must upload their videos onto Google Drive and share the link to this email address: info@agcthailand.org
1. The content in the video adheres to the topic's contest and reflects the meaning of "God with us พระเจ้าทรงอยู่กับเรา"
2. The content is presented in a way that is creative, interesting, and unique.
3. The quality of both the video and the audio must be good.
4. The content is in line with the Word of God.
The 1st place winner will receive a 2,000 baht cash prize.
The 2nd place winner will receive a 1,000 baht cash prize.
The 3rd place winner will receive a 500 baht cash prize.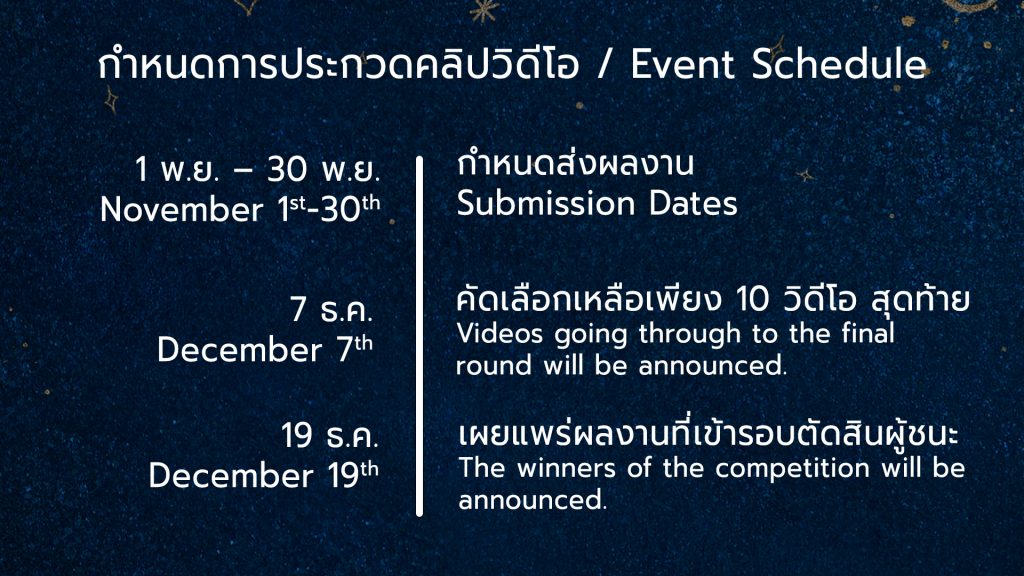 Terms and Conditions
The participants are willing to let Abundant Grace Church share their submitted videos on social media or other channels.
The decision is final, and it will not be changed. No disputes can be made after the final decision has been made.
The videos must not defame, insult, or threaten the Thai Royal Family, the videos must be respectful of any religion or the nations. The videos cannot contain content that is unlawful, misleading, discriminatory or fraudulent.
The videos must not encourage unlawful or unbiblical thoughts or behavior.
The videos must not have been submitted to any other contest in the past.
The videos must not infringe or violate someone else's rights, including their intellectual property rights. The participants are responsible for the usage of any content in their video.
The participants agree to give Abundant Grace Church the right to own their videos, and will allow Abundant Grace Church to use these videos free-of-charge without asking for the consent of the participants.
Videos that are submitted outside the submission dates will not be considered to win the contest.
The prizes are non-transferable and cannot be substituted with other alternative.
By entering the challenge, each participant automatically agrees to these terms and conditions.
For any questions, Please call 093-212-5455
We are available to call:
อังคาร – เสาร์ เวลา 08:30 – 17:00 น. อาทิตย์ เวลา 08:30 – 13:00 น.